Lower Your Grocery Bill
Are you worried about soaring grocery bill prices?

Would you like to reduce your food bill?
Out of control grocery spending is one of the biggest money wasters for American families.
You can lower your grocery bill and save money over time by making a few significant but simple changes to how you think about grocery shopping.
In today's economy, lowering your grocery bill is the ideal solution for many families. Whether you shop for 4 or 10 people, you can take control over what you buy and learn how to save a lot of money by following a few techniques.
One of the new food trends for 2009 is Value. "Value is the new Sustainable: These days, the economy dictates our cooking and shopping decisions. Bargains are in, no matter where they come from, " according to Epicurious.com.
More and more people are finding ways to save money on groceries. They're beginning to prepare their meals at home. About 45% of Americans dined out less last year to save money, a nearly 12% increase from 2007, according to consumer research and Food Technology Magazine. They also reported that, "people want to eat at home: 77% of all dinners in 2004 were eaten there and, more are ordering take-out from full-service restaurants during the week."
But full-service restaurants still can't compete with home cooked meals even with them lowing their prices.
Why?
Because when you prepare your own meals you save money on groceries because you cut out the middle man. Restaurant owners have to be concern about making a profit, I know, I use to have one. But in today's economic times, you have to think outside the box and learn to cut your OWN grocery bill.
Over the past few months, food prices have sky-rocketed so much, until it's going to take more than clipping coupons to survive these economic times. You can't change the price of food, but you can learn how to purchase foods that will help you save money on groceries and stretch your entire budget.
How?
One way is be learning how to effectively lower your grocery bill. And I have been looking for ways to do just that and this is what I found.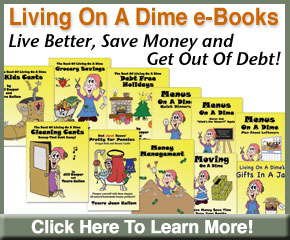 A friend told me about Grocery Shopping on a Budget E-Course. She talked about how much money she has saved on groceries so I decided to give it a try. After following the techniques and tips, I found this e-course to be a powerful tool that will literally show you how to cut your grocery bill.
The e-course also offers many extras like how to save money on meats, how to save on cleaning supplies and it will also show you how to---
Find the lowest prices every time you shop
How to organize your kitchen into a money saving machine!
Easy meal planning tips
Warehouse stores can cost you money
How to use or not to use coupons
And much much more.
Here's One Tip From the E-Course:
"Going out to eat is one of the top five causes of debt." We go out to eat because we can't face a dirty kitchen. Keeping your kitchen empty of dirty dishes is the key to saving money. This is probably the #1 way to start getting out of debt…" This E-course Shows You Why.
With the economy the way it is today, Grocery Shopping on a Budget WILL SAVE you lots of money when you prepare meals for your family. All you have to do is follow the tips and techniques outlined in the E-Course.
---
My Review
Grocery Shopping On a Budget E-Course
The e-course offers ways to lower your grocery bill. The techniques are reasonable to follow and the course will even show you how to save on cleaning supplies.
There are also preplanned menus for you to make that's very delicious. And, you can find many of the ingredients right in your own kitchen. The menus are not a one size fit all but a great way for offering a variety of foods including many southern and soul foods. You'll learn how to make delicious meals with comfort food like chicken and dumplings, and it teaches you how to get organized and be in control of what you buy. You will also have an opportunity to create your own menus and save money on groceries in the process.
You will definitely lower your grocery bill by following the techniques in this e-course. You'll learn how to shop and how to get the best shopping deals on meats and everyday shopping needs. I was really amazed at how easy it is to follow.
If you're really looking to lower your grocery bill, Grocery Shopping on a Budget E-Course will do just that. I have saved so much money with this e-course and I am so pleased with how the information is presented.
Grocery Shopping on a Budget E-Course is great for anyone who is looking to lower their grocery bills on a regular basic and not just in certain times.
Cassandra Harrell,
Soul Food Lovers' Cookbook
---
"Grocery Shopping On A Budget" E-course,
Also include the following 4 bonus items free!
Eating Healthy On A Budget E-booklet
Eating Healthy On A Budget shares thoughts on eating healthy without dumping the contents of your purse on the counter at the grocery store.
Is Eating Out Eating You Up? E-book
Eating You Up? looks at the cost of eating out and provides great alternatives that cost significantly less!
224 Meals In A Hurry E-book.
This ebook gives lots of delicious recipes to get you in and out of the kitchen in a hurry so that you're not tempted to eat out... AGAIN!
Grocery Savings E-book
Many people see dramatic savings after using the tips from this e-book. It explain why using coupons is not the best way to save money, how to shop without making so many impulse buys.
These 4 Bonus Items areABSOLUTELY FREE!
---
End of Lower Your Grocery Bill - Click for Homepage